Bringing History to Life with Richard Browning – Art in Prospect
The Prospect 1838 History Wall tells a story, ignites excitement and makes you say 'WOW THIS IS AWESOME!'. It's a place that the Prospect community will be proud of and tourists will want to see!
Have you seen it yet? Upload your photos to Facebook and tag @prospect1838adelaide. 
The awe-inspiring project has been three years in the making and we can't wait for you to see it. We spoke to Richard Browning, the artist behind the 100-meter wall to find out about the creative process to develop such an epic piece of art and how he managed to dig up all that history.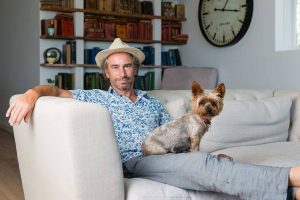 Richard, taking on a project of this scale must take many years of experience. Tell us about your background and some of the projects you completed prior to the Prospect 1838 history wall.
My background is in the design and advertising industry where I worked in international design companies based in London. Since emigrating to Australia in 2005 I have developed my own business as an Exhibition Designer for museums and tourist attractions. I am one of the leading exhibition designers in Australia and have won many national awards for my exhibitions.
I regularly work as a designer with local councils and their respective museums as well as local tourist attractions, such as Unley Museum, Bay Discovery Centre in Glenelg, Tea Tree Museum, Strathalbyn Museum. I also have also designed and installed exhibitions in many of South Australia's historic properties in partnership with the National Trust and in many other public visitor attractions such as Carrick Hill, National Motor Museum, State Records Office and the Adelaide Gaol.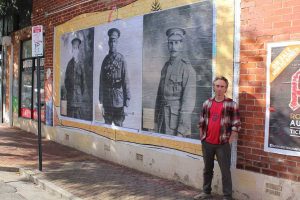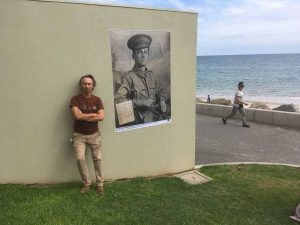 Prospect was founded in 1838 (hence the development's name) that's 181 years ago! Where did you even start to find all that history?
The original research was initiated through my association with the Prospect Local History Group that has published a number of books about the history of Prospect. This was the starting point for selecting a number of themes that could be articulated on the Prospect 1838 History Wall.
View historical images of Prospect here. 
The development of the wall's themes came by researching and locating suitable images that are associated with the stories. Themes cover sporting history, transport in the area, early industries and businesses, events – such as the annual soapbox derby and the cycle race which started in Prospect.
How hard was it to source these historical stories?
The stories are pretty easy to find as I had all the research already done by the Prospect History group, the problem was finding associated images to these stories. Usually, there would be grainy black and white small images. These would not be suitable for enlarging to the scale of the History Wall. So I had to try and locate the original photograph. Sometimes there is a reference in the publication of where it is, or I would do online searches at the State Library collection or Trove, which is an online resource for all past newspapers in Australia. Hopefully, the original images would appear or sometimes would suggest alternatives. 
At State Library you can purchase digital images but have found the original photograph in the Prospect Library collection. The stories and the designs would develop from this research.
How'd you go about sourcing your materials?
The History Wall is about 100m long with 15 telling the history of Prospect. These are printed in a tough vinyl material that is fixed to aluminium panels so has a long life expectancy. In between each history panel, there are 4m dividers that are made out of different materials that are associated with the adjacent panel. I tried to use materials representative of the story being told. 
The story about the dairy that used to be on the site has a divider that is a vertical garden wall or the one on transport has a divider made from railway sleepers. Other materials used are red bricks, when I talk about how people used to live in their houses, or a vertical bitumen road when reliving the cycle race stories.
Spoiler alert! With a 5-meter high windmill, a farmer's plough and cows, horses and life-size bike racers jutting into the street there must've been some challenges. Any challenges you've had to overcome?
The pure scale of the project has been the main challenge, as I have had to find the best quality images that can be enlarged and still be clear to see.
You can check out more of Richard's work on his website or on Facebook.