Event Recap – Investor Information Night

___
It might have a cool and drizzly February night but inside the Palace Nova Prospect Cinema it was warm and toasty and buzzing with excitement.
Our very first Investor Info Night was a great success. Over 50 interested attendees joined us in Cinema 2 as our three presenters told us why Prospect is a great suburb to buy property, and why Prospect 1838 is such a strong investment product.
After enjoying some pre-presentation drinks, people took their seats and were welcomed by Susan Pierce, the Director of Eminent Homes – Prospect 1838's developer and builder. Susan outlined some exciting events and facts relating to what is happening in South Australia, and why Adelaide is still performing well despite the struggling Eastern states.
Gary Benzan from Loanology then presented some facts and figures that proved beyond doubt why Prospect 1838 is a wise investment. Not only does an investment property save you thousands per year in tax, but by purchasing in a suburb such as Prospect, you'll be assured of consistent capital growth.
Prospect capital growth was 10.5% in 2016 and a whopping 11.9% in 2017 – with no sign of slowing down.
"Invest where people WANT to live, not where people NEED to live", says Gary Benzan.
Gary then presented a Property Investment Analysis for both the Billycan and the Airlie townhouses. He projects that after one year, you'll be pocketing $19 per week with the Billycan, and a massive $33 per week with the Airlie. As depreciation kicks in, these amounts only increase over time.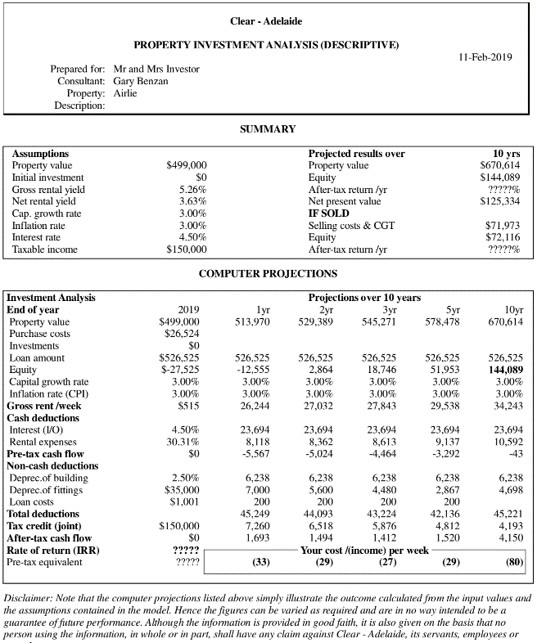 Loretta Cavallaro from VARO property then took the stage to talk us through some exciting facts about Prospect.
Did you know these facts about Prospect?
Covers approximately 5km2
Prospect has 19 parks/reserves, covering 2% of the total area
Prospect had a 2.2% population growth between 2011-2016
The majority of households in Prospect are couples with children, paying $1,800-$2,399 per month mortgage
The population generally consists of professionals
65% of homes in Prospect are Owner-Occupied
Median house price in Prospect is $673,500
The case for townhouses as an investment within Prospect 1838 is a strong one. Our attendees left the presentation both well-informed and well-equipped to invest confidently at Prospect 1838.
To our attendees, thank you for coming! And to those who may have missed out – please get in touch and we will be happy to meet with you and take you through the presentation.
Email samantha@eminenthomes.com.au to learn more.